Food & Diet
10 Best Dog Foods: Pros & Cons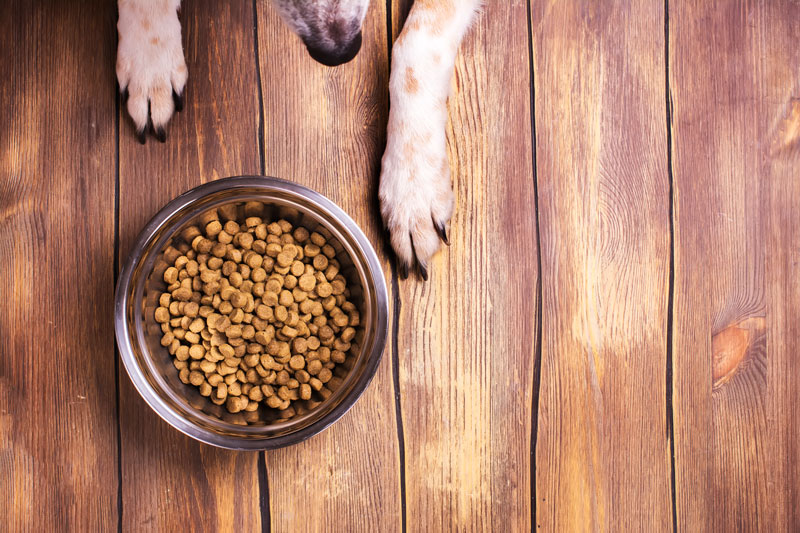 Having an esteemed position as man's best friend, your dog requires healthy nutrition to stay active, energetic, and lively. However, many off-the-shelf dog food brands don't contain high-quality ingredients, which mean bad news for your pup's health in the long run.
Therefore, you'll need to be more careful regarding what a particular brand of dog food contains by looking at the label and watching out for specific ingredients. Of course, you can't just walk into a store and start going through the ingredient label on each brand of dog food. Certain brands have a reputation for making healthy food with a balanced range of ingredients specially gathered for your dog breed.
We'll list down some of the best dog foods, both dry and wet, that can give you a head start on providing your pup with balanced nutrition.
Best Dry Dog Foods
Dry food is dehydrated food that doesn't contain any water, which means there's more meat product.
This high-performance dry dog food contains salmon as the main ingredient and rice for prebiotic fiber to promote better digestion for our pup.
In each of Purina's Pro Plan dry foods, ingredients are carefully selected to provide each type of breed or dog size with a health benefit. Carefully measured with a ratio of protein to fat, the Purina Pro Plan can maintain your pet's health and optimal body weight.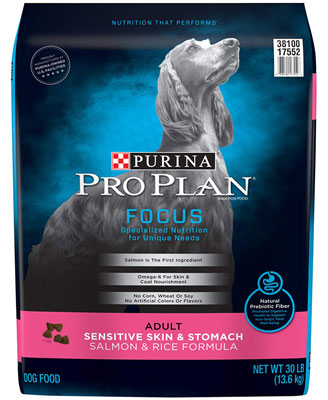 Shop on Chewy
Pros
Choose a specific Focus Pro Plan food based on your dog's life stage, breed size, and also for weight management
Contains real meat as the main ingredient
Available in 14 different dry formulas for sensitive dogs, smaller breeds, puppies, and even seniors
Cons
Ingredients are carefully selected so you don't get much choice if your dog is a breed with specific diet requirements
More expensive than regular store-bought dog food
According to Canidae, not only ingredients matter for optimal dog health, so does an ideal gut environment. Hence, the brand carefully selects potent probiotics for their dry food formulas that boost nutrient absorption, and antioxidants that enhance their immunity.
Canidae's simple but delicious PURE lamb with peas' recipe is formulated to give your pup all the benefits of wholesome nutrition, minus additives like corn and wheat.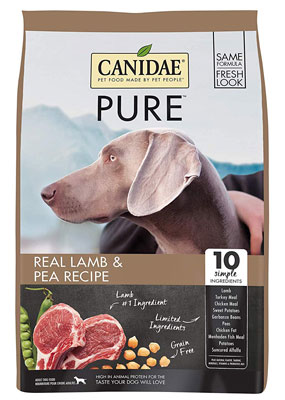 Shop on Chewy
Pros
A simple formula with few ingredients
Plenty of options for larger adult breeds
You can choose between meats like salmon, venison, and wild boar
Cons
Limited options for smaller breeds and weight management
Some flavors are more expensive
A reliable choice for many dog parents everywhere, the Blue Buffalo Life Protection Formula contains real chicken, beef, or lamb meat, giving it higher protein content. Along with high-quality natural ingredients, Blue Buffalo's lamb and brown rice meal is enriched with minerals and vitamins, and it's free from meat by-products and grains, like wheat.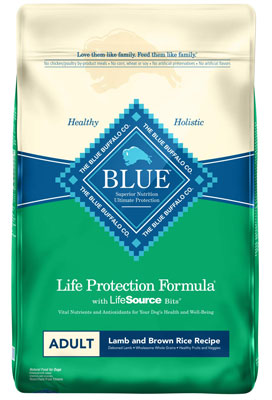 Shop on Chewy
Pros
Real meat is the first ingredient
Contains kibble that enriched with antioxidants called LifeSource
Free from chicken or poultry by-products
Different options available
Cons
More expensive than typical dog food
Grains, like soy and corn, provide zero nutrition to your pup, which makes Wellness Core's protein-rich formulas an adequate choice for maintaining your pup's health and longevity. Their original chicken and turkey grain-free dry food contains important vitamins and minerals to optimize immunity and nutrition.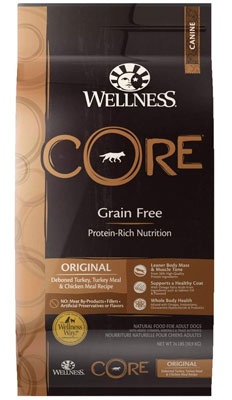 Shop on Chewy
Pros
Encourages healthy muscle tone and body weight
Gives your pup a healthy and shiny coat
Contains 80% more protein-based ingredients
You can choose from other varieties for puppies and nursing mothers
Cons
Higher price than regular foods
The Nulo brand's Adult Lamb and Chickpea dry dog food doesn't contain soy or wheat, and 81 percent of it is made from animal-based protein. Their formulas also contain beneficial probiotics but unlike many other brands, Nulo doesn't use poultry-based protein at all, only turkey, lamb, or salmon. Their organically-sourced ingredients give your pet a shiny coat, reduce the amount of shedding, and nourish his skin.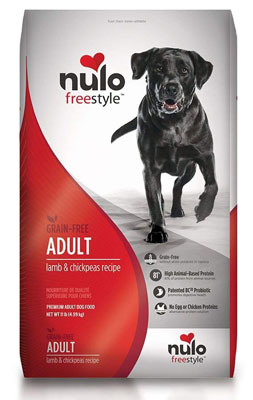 Shop on Chewy
Pros
Contain 85% protein
Low carbohydrate content to encourage a leaner body
Doesn't trigger grain sensitivity
Includes probiotics for healthy digestion
Cons
Best Wet Dog Foods
Wet food comes in cans, usually as stews or morsels with gravy, to provide your pup with adequate nutrition and hydration at the same time.
A trusted choice for pet parents everywhere, Taste of a Wild delivers grain-free nutrition with rich protein ingredients, like bison, venison, and salmon, rather than the regular chicken, beef, and lamb.
Their premium canned dog food varieties include High Prairie, Wetlands, Sierra Mountain Pack, and Pacific Stream. They mix well with dry food, and taste amazing, making this food a treat for finicky dogs.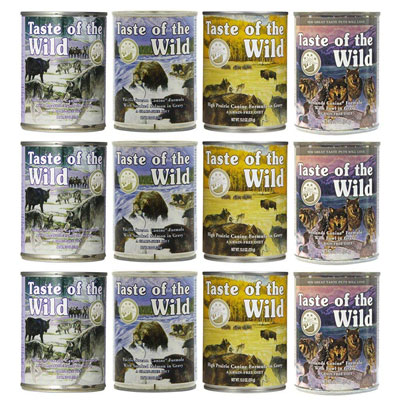 Shop on Chewy
Pros
Delicious taste that's great for picky eaters
Amazing variety for breeds
Available in proteins like venison, bison, and salmon as well
Can be mixed along with dry food
Cons
Pricier than dry food
Contains more moisture so you can't leave out more at a time
A New Zealand-based brand, Ziwi Peak's recipes contain either free-range chicken, grass-fed lamb and beef, and single-sourced venison.
These New Zealand recipes contain over 90% of pure meat that's free from hormones or antibiotics. With high moisture and protein levels, this canned food will satisfy even the pickiest eater puppies.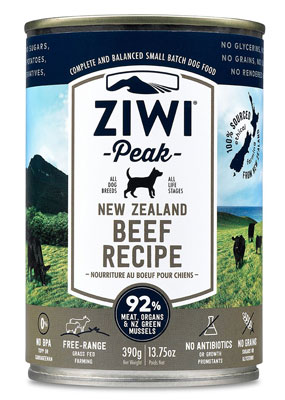 Shop on Chewy
Pros
92% meat
Delicious morsel taste
Available in different tastes and flavors
Simpler recipes that contain grass-fed, free-range meat
Cons
Pricey but you can mix it with kibble
Just like their premium dry food, Wellness Core's grain-free turkey and chicken wet food offer wholesome nutrition, along with essential minerals and vitamins that improve your pup's metabolic functions. It also includes a flax and fish-sourced omega complex that gives your pet a shiny coat and nourishes his skin.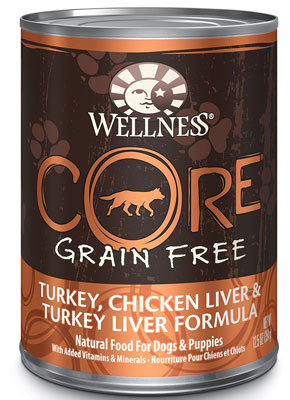 Shop on Chewy
Pros
Offers omega and flax complex, probiotics, and fiber
Nutrient dense food requires fewer servings
Gives your dog healthy gums, improved digestion, and shiny coat
Cons
Dick Van Patten's Natural Balance canned dog food is available in different meat-based formulas and even a vegetarian recipe. The meat-based formulas also contain beneficial ingredients, like potatoes, brown rice, and oat bran, while the vegetarian wet food contains peas, potatoes, and barley. Free from artificial additives and preservatives, these recipes can give your furry friend a nutrient boost and enhanced energy.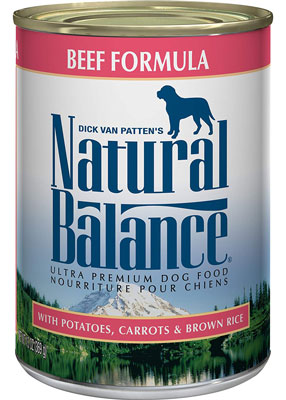 Shop on Chewy
Pros
Also offers a vegetarian formula
Meat-based formulas contain garden vegetables for added fiber
Formulated by experts
Cons
Not many vegetarian recipes
Expensive
This veterinarian-recommended dog food brand provides delicious variety to satisfy your pup's cravings during mealtime. You can add a bit of this savory stew to his favorite kibble, or serve it as is. With natural protein-based ingredients, like beef and chicken and vegetables, to provide fiber, Hill's Science combines flavor with health.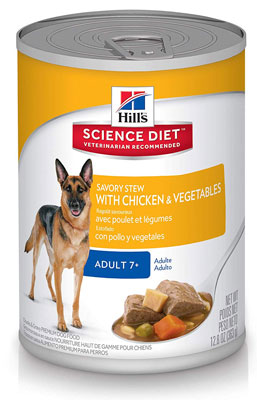 Shop on Chewy
Pros
Veterinarian-recommended formula
Savory stew that pet parents can mix with crunchy kibble
Affordable and high-quality nutrition
Cons
You'll need to add more variety because of higher moisture content
Our standard for healthy dog foods is that all the products we select need to be grain-free, so while they contain beneficial vegetables and fruits, they don't contain harmful fillers, such as wheat. This way, your best friend can get beneficial nutrition that fulfills their diet requirements.
If there are any brands or foods you love for your dog, please share for everyone in the comments below!
This post may be sponsored or contain affiliate links, which means we may receive a small commission, at no cost to you, if you make a purchase through a link.