Food & Diet
8 Best Automatic Dog Feeders in 2019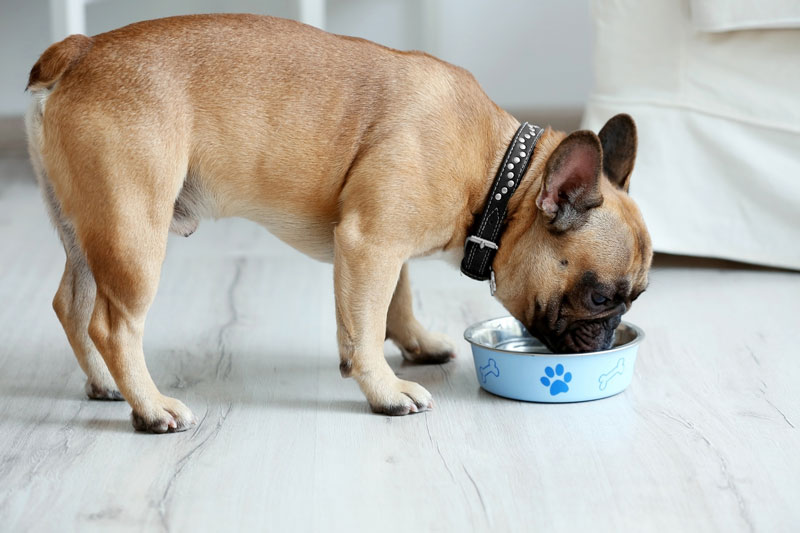 Automatic dog feeders are best for active owners on the go or when your busy schedule just doesn't line up with your dog's feeding times.
Most dogs eat twice a day at 8 to 12-hour intervals and sometimes we aren't always there to feed them. Don't' fret, technology to the rescue!
With an automatic dog feeder, you can make sure your dog's belly is always full. You can program when the feeder releases the dog food or it will automatically dispense when there is food missing. So whether you have a dog that would eat 24 hours a day or one who only eats when it's hungry, there is a dog feeder for you.
Let's review some of the top picks of automatic dog feeders in 2019.
This automatic feeder is great if you want the latest and greatest in pet technology. You can program at which times of the day you want to feed your pet or do it manually right from your smartphone. This dog feeder comes with a mobile app so you can set it to feed your pet even when you aren't home.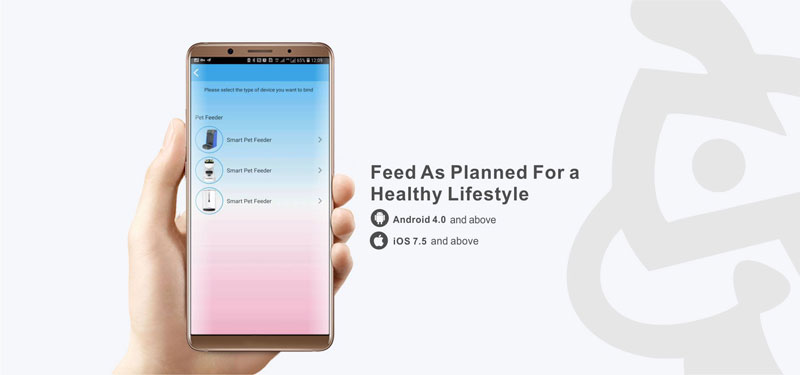 The app also allows you to see and talk to your dog in HD. So if you miss your fur baby or just want to make sure they got their dinner on time, you totally can.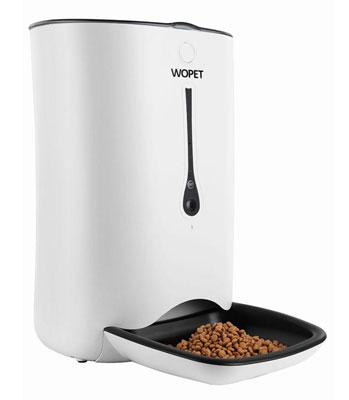 Shop Now & Get 30% OFF
Features of the WOPET Smart Dog Feeder:
Set custom times to dispense food
Pick portion sizes
Comes with a mobile app
Talk and see your dog in HD
Manually feed your pet from the app
The Westlink is a great option if you are trying to keep an eye on your dog's weight. It can dispense up to 39 different food portions, which is perfect if you are trying to figure out just the right amount. This feeder comes with a voice recorder so you can record up to a ten-second message for your pets so they know when to come eat.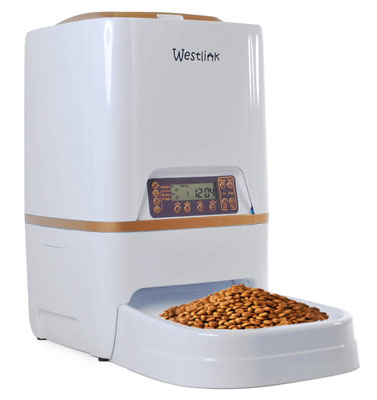 Shop on Amazon
Features of the Westlink Automatic Pet Feeder:
Infrared sensors to regulate food dispensing
Voice recording to call your pet when it's feeding time
Choose from 39 different food portions to keep your pet fit and healthy
The bowl is easily removable to clean
If you need a budget-friendly option, the AmazonBasic's self-dispensing gravity feeder is perfect. This feeder is a great fit for a dog that only eats when he is hungry. It dispenses using gravity, so when the bowl is empty it automatically refills. The only downside is you cannot set automatic times to dispense.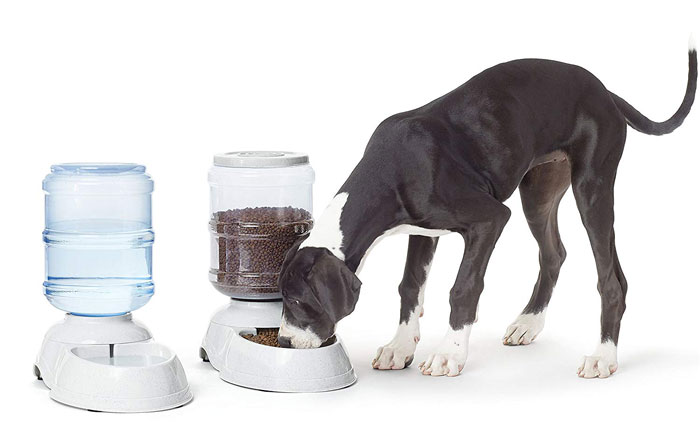 Shop on Amazon
Features of AmazonBasic's Gravity Feeder:
Budget-friendly
Comes with a feeder and waterer
Extra-wide-mouth food hopper and water bottle for easy filling and cleaning
This dog feeder is jam-packed with features. It will be easy to manage your dog's weight with the portion control feature. Customize not only the portion size but how fast it dispenses the food. There is a slow feed option which dispenses the food over a 15-minute period. This will prevent any dogs who are extremely fast eaters from getting an upset stomach.
It comes with a stainless steel bowl so it's hygienic and easy to clean. Plus, it's dishwasher friendly!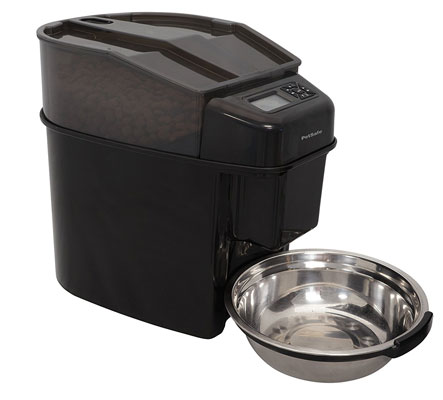 Shop on Amazon
Features of the PetSafe Dog Feeder:
Slow feed option which dispenses food over 15 minutes (for the speedy eaters out there)
Translucent lid & hopper to quickly view food level
LCD screen with 5-button navigation for easy programming
Lid, hopper, bowl and bowl holder are top-shelf dishwasher-safe for convenient cleaning
This WOPET dog feeder is much more cost-effective than the WOPET mentioned above. It doesn't come with as many features but is still well worth the cost. It allows up to four meals a day with a flexible 1 to 39 different portion sizes. You can also record your voice so your dog will know when it's meal time. It comes with a built-in IR detector to avoid the food from spilling or clogging. Overall this is a solid automatic feeder. Plus, I love the way it looks!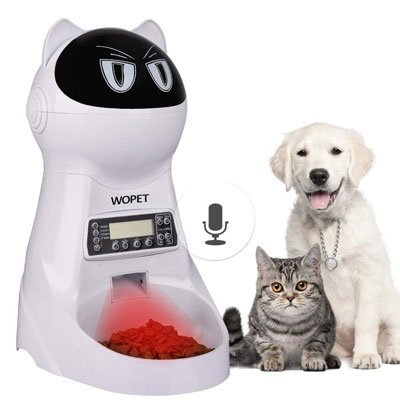 Shop on Amazon
Features of the WOPET F03 Food Dispenser:
Up to 4 meals a day
1-39 food portion sizes
Recordable voice to let your dogs know when it's time to eat
The HoneyGuaridan dog feeder has the most portion control and food storage of all the ones on the list. It can hold up to 13 cups of dog food and you can select 1-80 different portion sizes. You can schedule up to six meals a day.
Once you schedule your feeding plans, it can keep working permanently. Even if the power is shut down, the memory will keep permanently. If the food is low, there is a blue LED light that will flash to let you know. Like many other feeders, you can record your voice to let your pet know when it's time for dinner.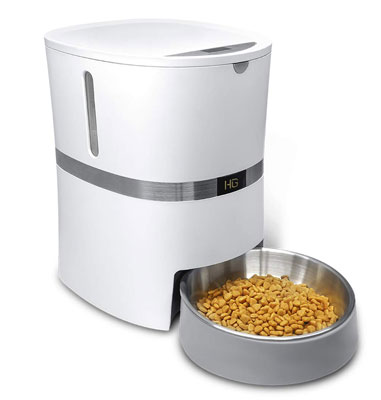 Shop on Amazon
Features of the A36 Automatic Dog Feeder:
Holds up to 13 cups of dog food
Schedule up to 4 meals a day
LED indicator when food is low
Voice recorder to let your dog know it's dinner time
12-month warranty
If you are on the go or work long hours, this pet feeder is the one for you. It's one of the more tech-savvy feeders. It comes with an iOS/Andriod app where you can set times meal times, portion control and a built-in webcam. It comes with a speaker so you can either record your voice or talk in real time. So your dog never has to dine alone again.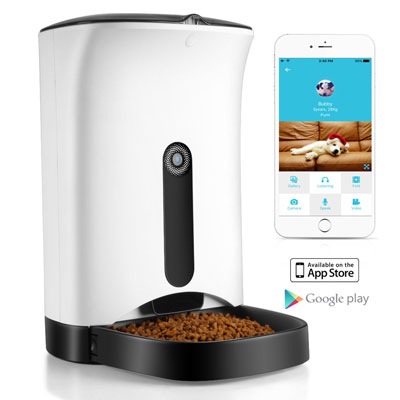 Shop on Amazon
Features of the Flexzion Feeder:
Comes with a mobile app
Built-in webcam and voice chat
Detachable feeding bowl / tray allows for easy cleaning
Have you ever wanted to Facetime with your pooch? The Knox dog feeder comes with a screen where you can actually be with your dog while he/she enjoys their meal. If your dog has separation anxiety, this is a great choice to help ease their anxiety. You can control all of its features right from the app.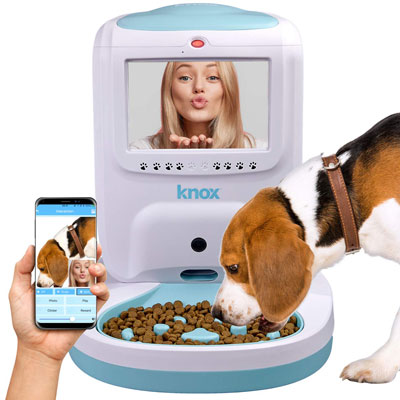 Shop on Amazon
Features of the Knox Dog Feeder:
2 Way video and audio so you can "Facetime" with your dog
All controls are accessed right from the app
LCD screen
This post may be sponsored or contain affiliate links, which means we may receive a small commission, at no cost to you, if you make a purchase through a link.