Cat Supplies
10 Modern Cat Beds You'll Wish You Could Sleep In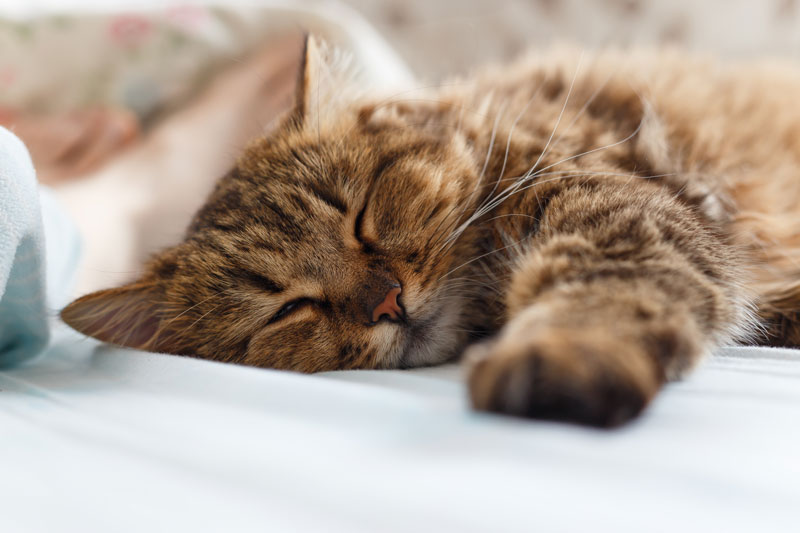 Every cat owner wants their pet to be as comfortable as possible, which means they need to provide a place for their furry friend to sleep.
The amount of cat beds and styles out there can be overwhelming, so choosing a specific one can be difficult.
In order to help narrow down the search, here are ten different cat beds that are sure to catch your pet's attention.
This eco-friendly cat bed provides a spacious place for cats of all sizes to hide. The bed is a round shape with a hole in the center for cats to climb into and sleep comfortably.
It is handmade from wool, making it both soft and flexible. If your cat prefers to rest on top of the bed, it can flatten and still easily regain its shape afterwards. This bed comes in four different color options, and is easy to keep clean because the fabric is designed to repel dirt and odors.
As another comfortable place for your cat to hide, this bed provides a hard polyester exterior and a soft interior. This bed can be purchased with a heated option for extra comfort.
It is an oval shape with a small hole in the center for your cat to climb in. The top of the bed can be removed, which can make it easier to clean the inside. This bed has a diameter of 22 inches, so all cats should be able to comfortably fit inside. It comes with a gray, green, or tan exterior.
This cat bed is a unique cat tree design. It has two platforms attached to a flat base. The lower platform is a bowl-shaped bed for your cat to nap in while the other one is a higher perch for cats to jump onto. There is also a string toy hanging down from the higher perch.
The structure stands just under two feet tall and the base is 17 x 17 inches. This product provides a space for your cat to rest, climb, and play all in one. It comes in a neutral color to match with any furniture items.
This triangle-shaped bed serves as a tent for your cat to rest in.
It can also easily be converted into a flat, traditional bed if needed. The bed is constructed out of eco-friendly linen and cotton, and can be bought in two different sizes and 6 unique designs, each with different colors and fabrics. The pillow cushion inside the tent is easily removable, so that both parts can be washed separately.
Made from sheepskin and suede, this comfortable bed has a soft brown exterior and a fluffy white bedding. The bed is in the shape of a large cube with a large hole on one side and a few smaller holes on the sides for the cat to peek out of and play with. There is space both inside the bed and on top of it for the cat to rest.
It is also able to be folded down to save space and to store easier. This bed has a 15.5 x 15.5 inch base and a height of 16.5 inches. There are two other fabrics that can be chosen for this bed, as well as a two-story option that is about 30 inches tall.
This soft, traditional-shaped cat bed is made from hand-woven cotton, appearing as a stylish ball of yarn. The bed is light and easy to transport. It is about 16 inches across, providing enough space and comfort for your cat.
It can be purchased in three different colors: light blue, navy, and dark gray. It can easily be washed in a washing machine, and it is also suitable for small dogs and other small pets.
This banana-shaped bed provides a cute spot for your cat to rest and hide. The top of the banana bed is semi-open, but can be closed completely with Velcro, still allowing for proper circulation while your cat hides.
The bed is made out of cotton and fleece, and has four different size options, suitable for pets between 3 and 22 pounds. It can be purchased in a traditional yellow color or a light green tone.
This cat hammock provides a soft sleeping space for your cat that is lifted above the ground. It is made with real wood for the structure and has a plush, washable fabric for the hammock.
The hammock must be assembled, but it comes with simple step by step instructions. Once it's put together, this hammock can comfortably hold 20-30 pounds. This option is built with an anti-sway structure to help prevent the hammock from moving too much while your cat is on it. A complimentary cat toy is also included with this bed.
Shaped as the head of a cat, this bed provides a space for cats to sleep on and scratch. Cats can rest either inside the face of the cat or on top. The scratcher has real catnip in it to make cats more interested in it.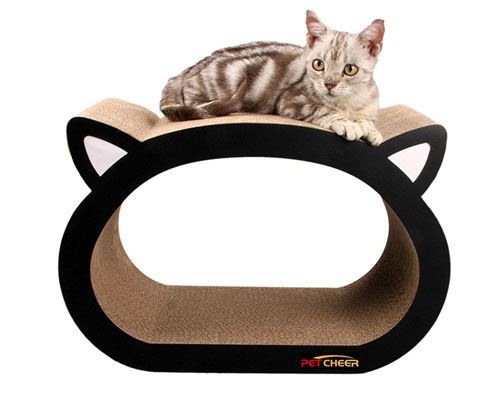 The bed is created entirely out of recycled materials, which consists mostly of heavy-duty cardboard that will not collapse. There are a few other shapes that can be selected for this product as well.
This plush pet tent provides a soft triangular-shaped space for cats to hide. It is made completely with either suede, linen, or corduroy fabric, depending on which of the 7 designs you choose.
It also has a foam lining, making it light and easy to transport. It comes with a pillow inside that can be taken out and swapped for a different bedding if needed. This bed is safe to use in washing machines, and it comes in different sizes, ranging from 16 x 16 inches to 19 x 19 inches.
This post may be sponsored or contain affiliate links, which means we may receive a small commission, at no cost to you, if you make a purchase through a link.